December is kerstmaand! Een kerst Book Tag kan niet ontbreken natuurlijk!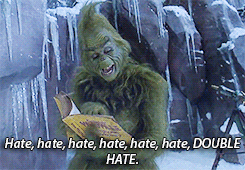 "Half of the lights on the Christmas tree are burnt out"
Name a book/series/character that started out good but went downhill
Noem een boek/serie/karakter dat goed begon maar snel bergafwaarts ging
The Testing Trilogy – Joelle Charbonneau
"Annoying Great Aunt Sally who will not leave you alone"
Name a book that you didn't enjoy, but everyone else seems to love it so it never goes away
Noem een boek dat jij niet leuk vond, maar ieder ander wel dus het gaat niet weg
The Lunar Chronicles – Marissa Meyer
"Your pets keep knocking over the Christmas decoration"
Name a character that kept messing things up for everyone else (can't pick a villain!)
Noem een karakter dat elke keer dingen verkeerd deed voor iemand anders (het mag geen slechterik zijn!)
Bella Swan – Twilight
"You hear your parents putting out the presents and learn that Santa isn't real"
Name a book you were spoiled for
Noem een boek waarvoor je gespoiled ben
Ik ben eigenlijk heel goed in spoilers vermijden, en anders vind ik het eigenlijk totaal niet erg. Het gaat mij om het verhaal daarheen, niet om de laatste plottwist.
"It's freezing outside"
Name a main character you just couldn't connect with
Noem een hoofdpersoon waar je gewoon geen connectie mee kreeg
Katherine – Three Dark Crowns

"Mariah Carey's 'All I Want for Christmas is You' and it's giving you anti-romantic feelings"
Name a couple you couldn't stand
Noem een koppel wat je echt niet kan uitstaan
Tamlin & Feyre (A Court of Thorns and Roses – Sarah J Maas)
"That scratchy homemade wool sweater you got for Christmas years ago but won't get rid of"
Show some books that have been sitting on your shelves for a while, and you aren't motivated to read, but won't get rid of
Laat wat boeken zien die al een tijdje op je plank staan, en je nog niet gemotiveerd genoeg voor ben om te lezen, maar niet weg wil doen
Dit zijn er veel te veel om hier even te laten zien.

"Grandma Got Runover by a Reindeer"
Name a character death you are still mad about (warn people for spoilers! You can also use TV or Movie deaths)
Noem een karakterdood waar je nog steeds boos om bent (waarschuw mensen voor spoilers! Je mag ook tv of film doden gebruiken)
Harry Potter series – J.K. Rowling. Ik wil niet spoilen, maar het brak mijn hart!

"The malls are overly crowded with holiday shoppers"
Name a series that had too many books in it/ went on too long
Noem een serie dat teveel boeken heeft/ te lang is doorgegaan
Ik heb echt geen idee.

"The Grinch"
Name a main character you HATE (No villains!)
Noem een hoofdpersoon dat je haat (geen slechteriken!)
Deze is ook echt lastig, ik haat geen karakters, maar er zijn er wel een paar die je leert te accepteren. Tamlin van A Court of Thorns and Roses is daar een van bijvoorbeeld.